Fast and accurate shipping
Handcrafted beard oil production

Beard oil made to measure

Secure payment by credit card
Les Frères Green
We are three twin brothers Steve Green, Bill Green & John Green. There's only one thing that makes us different: our beard.
From the very first hair, we noticed a difference in colour in each of us. Steve had two thick brown hairs for a first mustache growth, Bill had a fine, red, frizzy hair and John had an almost golden blond hair. It was finally the opportunity for us to stand out from our friends.
A few years later, when our beards started to grow, we realized that their texture was different in each of us. It was at that time that we joined forces to create a 100% vegetable beard oil for men to enhance each type of beard.
The Green brothers' beard oils have been designed with the utmost respect for your skin and hair type.
Our beard oils are handcrafted and composed of 100% vegetable oils and 100% organic essential oils.
Beard oil 100% vegetable
Our beard oils are designed with the utmost respect for your beard and skin. We only use 100% vegetable castor oil, apricot kernel, grape seed and organic vegetable oils based on fresh coconut pulp.
Artisanal production
100% of our beard oils are handmade, which makes them authentic. Our goal is to offer your beard an oil designed with love, which machines cannot offer you. We manufacture the labels of our oils ourselves and engrave the Green Brothers logo on each comb and brush to make each product unique.
French Manufacturing
A French family business composed of 3 brothers who are passionate about beards. Buying beard oil Made in France is like buying the luxury of beard oil with divine fragrances and French know-how.
Organic essential oils
The Green Brothers beard oils are made with the utmost respect for your skin. We only use organic essential oils to avoid any allergy or itching. Monoï beard oil and vanilla beard oil are composed only of vegetable oils and without essential oils for the most sensitive.
Become a brother by following us on Instagram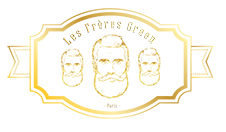 Les Frères Green : The French Beard Oil for men