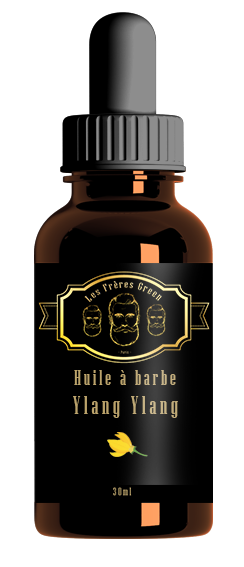 Ylang Ylang beard oil for men with organic essential oils of Ylang Ylang is a floral and exotic concentrate with relaxing and regenerating properties. An essential part of hair care, this beard oil is perfect to make your hair tonic and shiny when it lacks vitality. The 100% natural vegetable oil of grape seed and apricot kernel rich in Omega 6, Omega 9 and vitamin E, make it a soothing and protective beard oil for your hair and skin. Capacity : 30ml
Who is this beard oil for?
You proudly wear a beard, a moustache or even both, but you don't take care of it yet? There is still time to be grateful for that beautiful facial hair that Nature has spoiled you with. By choosing to take care of your beard with our organic Ylang Ylang beard oil with essential oils, you are ensuring a perfect combination of masculinity and softness. Ylang Ylang is a tree that finds its source in the primary tropical forests of Southeast Asia and is cultivated mainly on the tropical islands of the Indian Ocean. Nourishing your beard with our Ylang Ylang beard oil means going back to your roots and feeling like a man for the time of a care completely dedicated to your beard. The power of its camphorated and spicy scented flowers will delight men like you in search of virility. In Indonesia, the bed of the newlyweds is traditionally covered with the elegant yellow flowers of Ylang Ylang. Perhaps you will find your soul mate with this beard oil from the Green brothers. If you and your beard are looking for love with a capital A, then the Green Brothers beard oil is for you.